OUR LEADERSHIP
When you choose GL Signature Homes you receive the expertise of the most experienced and respected builders in the industry with careers built on a tradition of honesty and integrity.
WHAT OUR CLIENTS SAY ABOUT GL SIGNATURE HOMES
---
"
When we hired GL's Custom Home Division to build our dream home we made a great decision. Richard Rankin headed the team that built our home. He is exceptionally honest, professional and a dedicated, highly experienced builder....
"
Working with GL Signature Homes is better than anything imaginable! The level of professionalism, knowledge and experience cannot be found anywhere else!...
"
I have had the distinct pleasure of working alongside Richard Rankin on numerous estate homes over the past two decades. Richard is a master at the blending of professional talents from architects to artisans and approaches each custom home project as a collaborative team effort.
"
We were extremely satisfied with our GL Custom home experience. Richard Rankin and his staff gave us the complete custom home experience while having the resources and backing of one of the nation's largest home builders...
"
We picked the best builder in South Florida... The house was built perfectly, down to every detail. I never worried about going over budget, having delays or finding sub-par craftsmanship.
"
I was extremely pleased with the outstanding workmanship of GL Signature Homes and the skills of the people who work for them. They were able to accomplish a first rate job on a home that has truly become a showplace in Boca Raton...
"
Richard Rankin is extremely qualified as a custom home builder... His work ethic is superb and the quality of his work is fantastic. He simply gets the job done without all the fuss and bother that I have witnessed in my, over 30 years, being deeply involved in the construction and home building business...You could not be better served.
"
...One of the finest builders of custom homes in Florida... I recommend GL Signature Homes to anyone looking to build their dream home with as little stress and as much fun as possible.
"
Richard has always conducted himself in a professional manner and completed the job with efficiency, client awareness and timeliness. Jobs move from drawing to reality with touches added, not taken away.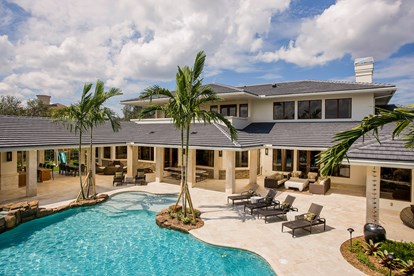 OUR CORPORATE HISTORY
GL Signature Homes is the elite custom home building affiliate of South Florida-based, GL Building Corporation. GL Building Corporation is the commercial and residential general contractor of Florida's top private homebuilder, GL Homes.
GL Signature Homes relationship with GL Building Corporation provides it with the financial opportunity, versatility and depth of experience that has propelled the GL companies to the top of the real estate industry. GL Signature Homes also receives the benefits of tremendous purchasing power and operational efficiencies.
GL Signature Homes was created to meet the specific demands of the ultra-luxury home market catering to the client's every need.